Kontrollflüssigkeit 20 LI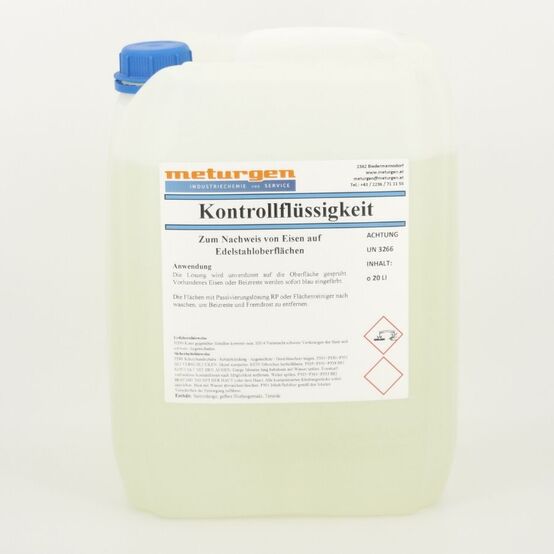 Choose product dimensions
Container Size
remember dimensions
Add to favourites
Favourite added
remove
product was removed |
undo
Please choose your product dimensions.
Description
The liquid is sprayed undiluted onto the surface with a polysprayer. In the presence of iron or in the case of pickling residues, a change to blue occurs immediately. The liquid reacts with the iron and forms a blue salt, which is clearly visible. The corresponding areas must be washed again with Edelstahl-Reiniger or Passivierungslösung. In the case of cracks or narrow gaps, they should then be washed again with REMBA Neutralreiniger. The test is only significant if it is applied directly after washing. If the component has been stored outdoors or even indoors, it is possible to detect foreign ferrite on the surface, which is produced during the processing of stainless steel. Do not use on blasted surfaces. Download – Product Information: here (https://www.meturgen.at/wp-content/uploads/2021/05/kontrollfluessigkeit_ENG.pdf)
Product details
5006_37
Item number
37
Note

Do not use on blasted surfaces!

Container Size
What is the difference between basket and request?
Why is this product only available on request?
Why can't this product be added to my request?
Login
Use your customer benefits.
Order online 24/7
Accept quotes online
Personalized Pricing
Login
New customer?