Letra alkalischer Reiniger 10 LI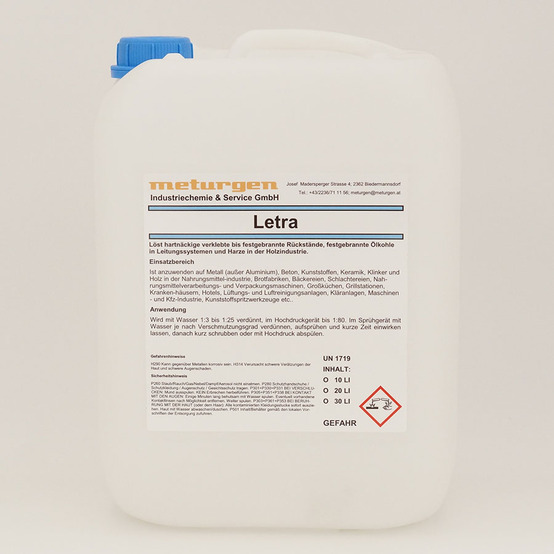 Choose product dimensions
Container Size
remember dimensions
Add to favourites
Favourite added
remove
product was removed |
undo
Please choose your product dimensions.
Description
Letra is a special product with high quality non-iogenic surfactants for cleaning greasy and persistent contamination. Letra can be used on metal, concrete, plastics, ceramics, clinker and wood in the food industry, bakery, butchery, food processing and packaging machines, canteen kitchens, barbecue stations, hospitals, hotels, air purification plants, sewage treatment plants, machine and automotive industry, plastic injection molds etc.... Can also be used as a basic cleaner for elastic floors. Not suitable for aluminum! Download – Product Information: here (https://www.meturgen.at/wp-content/uploads/2021/05/letra_ENG.pdf) ADR supplement for transport of dangerous goods already included in the price!
Product details
5006_38
Item number
38
Note

Not suitable for aluminum!

Container Size
What is the difference between basket and request?
Why is this product only available on request?
Why can't this product be added to my request?
Login
Use your customer benefits.
Order online 24/7
Accept quotes online
Personalized Pricing
Login
New customer?