Passivierungslösung säurefrei 10 KG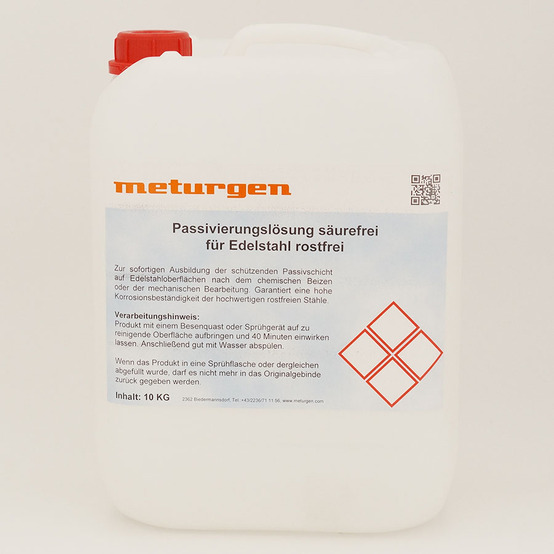 Choose product dimensions
Container Size
remember dimensions
Add to favourites
Favourite added
remove
product was removed |
undo
Please choose your product dimensions.
Description
During most processing steps, such as welding, grinding and bending, the passive layer of stainless steel is destroyed. This can be re-formed by the atmospheric oxygen, but this process can take up to 3 weeks. During this time, the stainless steel is not protected and corrosion can occur due to extraneous ferrites such as brake dust or iron dust. Road salt can also lead to rust in winter. To accelerate the process of passivation and to protect the steel again, it is recommended to treat it with a passivation solution. The passive layer is formed immediately. This layer is thicker than in the case of self-passivation. The Passivierung säurefrei is non-hazardous according to ADR/RID and GHS. Residues do not lead to discoloration of the surface. Download – Product Information: here (https://www.meturgen.at/wp-content/uploads/2021/05/passivierungsloesung_saeurefrei_ENG.pdf) Download – General Cleaning Instructions: here (https://www.meturgen.at/wp-content/uploads/2021/05/general_cleaning_instructions.pdf)
Product details
5006_31
Item number
31
Note

non-hazardous

Container Size
What is the difference between basket and request?
Why is this product only available on request?
Why can't this product be added to my request?
Login
Use your customer benefits.
Order online 24/7
Accept quotes online
Personalized Pricing
Login
New customer?