Sprühbeize extra 30 KG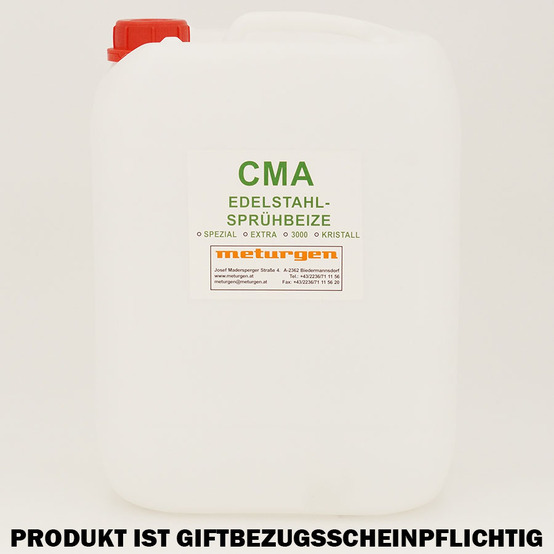 Choose product dimensions
Container Size
remember dimensions
Add to favourites
Favourite added
remove
product was removed |
undo
Please choose your product dimensions.
Description
This product requires the certificate for the purchase of toxic substances for Austrian customers. CMA Sprühbeizen effortlessly remove tarnish, oxide layers, scale and extraneous rust. A bright, metallically clean surface is achieved. Weld seams are cleaned as well. Before processing, an indicator can be added to the CMA Sprühbeize, which makes the working process easier to follow, reduces the formation of nitrous gases and prevents the formation of nitrite in the waste water. CMA Sprühbeizen are free of hydrochloric acid and chlorides. Download – Product Information: here (https://www.meturgen.at/wp-content/uploads/2021/05/spruehbeizen_ENG.pdf) ADR supplement for transport of dangerous goods already included in the price!
Product details
5006_28
Item number
28
Note

Certificate for the purchase of toxic substances required for Austrian customers

Container Size
What is the difference between basket and request?
Why is this product only available on request?
Why can't this product be added to my request?
Login
Use your customer benefits.
Order online 24/7
Accept quotes online
Personalized Pricing
Login
New customer?